Your feedback :
: Instructor
100%
: Presentation
96%
: Content
97%
: Organization
94%
Event Gallery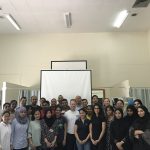 When & Where
About Speaker
Learning Outcomes
Organizers
When & Where
October 20-21 2017
Rashid Hospital, Dubai
About Speaker
John Gibbons
Learning Outcomes
Theory
The role of the physical therapist
Different types of soft tissue techniques
Differentiate BMRT from STR
Strain counterstrain and Positional release techniques explained
Muscle energy techniques (MET)
Myofascial techniques
Open forum, case studies, differential diagnosis of musculoskeletal pain.
Practical
Surface anatomy – identification of bony landmarks, muscles and ligaments
Surface anatomy of the psoas, release of the psoas using myofascial technique, MET and positional release (PR)
Surface anatomy – shoulder assessment and treatment using soft tissue techniques
Treatment of lumbar spine erector spinae, decompression using the bodymaster release techniques (BMRT)
Assessment and treatment of cervical spine
Assessment and treatment of hip joint, piriformis and the sciatic nerve
Treatment of specific injuries using BMRT, STR, SCS, MET and PR.
Techniques concerning the Achilles tendinopathy; lateral epicondilitis, medial and lateral hamstrings, rectus femoris and peroneals will be demonstrated.
Organizers
Organizer
Focus Professional FZE
In Association with