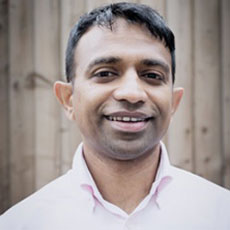 Ben qualified as a physiotherapist in 1998 and has worked extensively in hospital, private practice and sporting settings within Asia, Middle East and the UK.
Having specialised in musculoskeletal care, he works as an MSK Extended Scope Practitioner in the NHS and also in private practice. He has developed a special interest in treating complex lower limb pathologies, running injuries and chronic hip and groin patients. The majority of his private caseload is made up of recreational runners and overuse lower limb injuries. He is also involved in training and designing screening programmes for various client groups in private practice.
Ben has completed his masters in advanced physiotherapy from the University of Hertfordshire in 2014 and was the national winner for the highest scoring candidate of the society of orthopaedic medicine registration examination and was the recipient of the Saunders prize for 2011.
Clinically, he deals with complex patients referred by GPs and for a second opinion on failed patients by other therapists. Ben loves a challenge, and enjoys treating hip and groin patients and overuse running injuries. He is passionate about the application of research in clinical practice and is also involved in regular teaching nationwide on multiple lower limb courses.